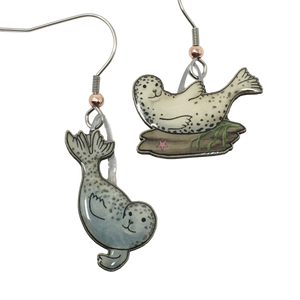 That's right! These vibrant and lightweight earrings are upcycled from cereal box paperboard! The paperboard, which has likely already been through multiple rounds of recycling, is used as the base material on which the artwork is affixed. Coats of shellac and epoxy keep the earrings durable and water-resistant. Cereal box text, colors, and patterns are visible on the back side of the earrings—each one is unique!
Details

Full length (including ear wire): 1.75 in.
Dangle earrings.
Surgical steel ear wires.
Comes with small rubber stopper on each ear wire.
Made in Bellefonte, Pennsylvania.