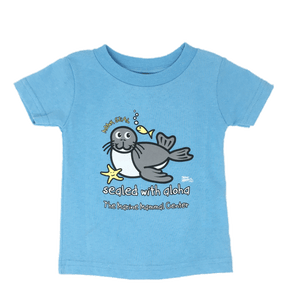 This special t-shirt is "sealed" with Aloha! 
With fewer than 1,400 individuals remaining, the Hawaiian monk seal is the most endangered marine mammal in the United States. Fortunately, The Marine Mammal Center and partner organizations are working to save this species through direct animal care, community outreach, and education.
Details

100% cotton, light blue.
Printed in the USA.
Infant and toddler sizes.