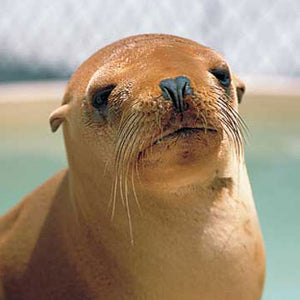 Arrow's Story
Curled up below a wharf in Morro Bay, California, this five-month old California sea lion pup was emaciated and entangled in fishing line. She had been pierced with a 16-inch crossbow arrow that remained lodged just above her shoulders. Following transfer to the Center's main hospital in Sausalito, staff veterinarians removed the arrow, cleaned her wounds and immediately began antibiotic treatment.
With the caring support of our volunteers, Arrow recovered and was released back into the wild. Sea lions are protected under the 1972 U.S. Marine Mammal Protection Act that prohibits anyone from harming or disturbing marine mammals. Working in partnership with NOAA fisheries, the Center helped publicize the crime, posting a reward for information leading to an arrest. Several months later, the guilty parties were identified, fined $4,000, and ordered to pay $2,200 in restitution to the Center.
Adoption Details
When you adopt this past patient, you'll receive a personalized 7in. x 5in. physical adoption certificate with the animal's photo and story on the back. Your symbolic adoption will make a difference in the lives of current and future patients.
Shipping included!
This is a physical product that will be mailed to you and does not come with a digital certificate. For downloadable Adopt-a-Seal® options, visit our Digital Downloads page!