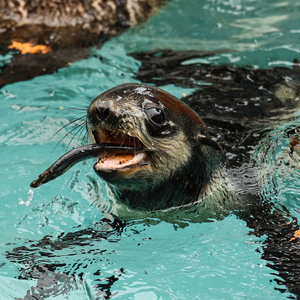 2020 Patient of the Year Nominee
Northern fur seal Dracula was only three to four months old when he was found in a scary situation. Weak, malnourished and with his mother nowhere in sight, Dracula was in need of a miracle.
After our trained responders safely transported this pup to our hospital, our veterinarians prescribed him a treatment plan that included plenty of nutritious fish meals, antibiotics and fluids.
Dracula began to slowly regain his strength. It wasn't long before he was practicing important skills he would need to survive in the wild, like catching fish and competing for food with his pen-mates.
After about six weeks of care, Dracula had transformed from a weak, skinny pup to a fur seal ready for his second chance at life. Dracula was released back to his ocean home alongside other fur seals his age.
Adoption Details

This is an exclusive digital-only Adopt-a-Seal®. When you adopt this patient, you'll automatically be able to download your adoption certificate, which shares this patient's photo and story.
Download your digital Adopt-a-Seal® today!
Please note that this is a non-customizable, download-only certificate.