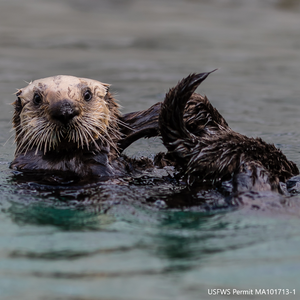 2018 Patient of the Year Nominee
Southern sea otter pup Langly and her mother were rescued after a shark had mistaken them for a meal. Langly's mother lost too much blood and didn't survive the drive to our hospital, making the young pup an orphan.
Because Langly was so young, our dedicated volunteers prepared meals for her six times a day, cracking mussels and removing shrimp legs to make her transition to solid food easier.
Langly was soon joined by two more sea otters, and the three of them became great companions. But feeding them was quite expensive as otter diets include delicacies such as shrimp, crab and scallops.
Before her release back to the wild, Langly was fitted with a tracking device so researchers can learn more about this threatened species.
Adoption Details

This is an exclusive digital-only Adopt-a-Seal®. When you adopt this patient, you'll automatically be able to download your adoption certificate, which shares this patient's photo and story.
Download your digital Adopt-a-Seal® today!
Please note that this is a non-customizable, download-only certificate.