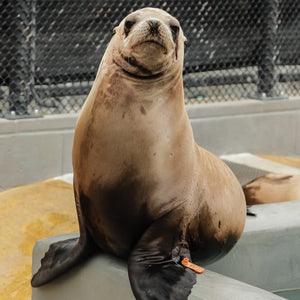 2020 Patient of the Year Nominee
California sea lion Seadog was spotted not looking like a healthy young sea lion should. He was brought to our hospital where our expert veterinarians determined that he was showing signs of domoic acid toxicity.
Domoic acid, a potentially deadly neurotoxin, accumulates in small fish like sardines and anchovies. So the hearty meals that should have nourished Seadog instead made him deathly ill. This toxin can also impact humans, but caring for patients like Seadog helps protect human health. That's because it allows our scientists to alert officials who can then regulate the seafood that ends up on our plates.
Luckily Seadog came into our care before too much harm was done. You see, if left untreated, domoic acid can cause permanent brain damage or even death.
After about a month of care, Seadog was granted a clean bill of health and released back to his ocean home with a second chance.
Adoption Details
This is an exclusive digital-only Adopt-a-Seal®. When you adopt this patient, you'll automatically be able to download your adoption certificate, which shares this patient's photo and story.
Download your digital Adopt-a-Seal® today!
Please note that this is a non-customizable, download-only certificate.