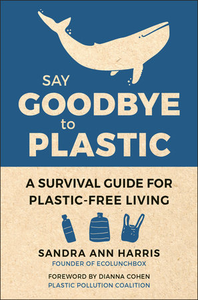 By Sandra Ann Harris, founder of ECOlunchbox
With foreward by Dianna Cohen, Plastic Pollution Coalition
About 80% of trash found on beaches comes from single-use "disposable" plastics like plastic bottles, takeout containers, utensils, bags, and wrappers. These items pose a deadly threat to marine animals.
You can help stop plastic pollution at its source by committing to plastic-free habits. In this practical guidebook, author Sandra Ann Harris, eco mom and founder of California-based green business ECOlunchbox, walks you through various ways you can reduce or eliminate plastic from your home and lifestyle.
Details

Hardcover, 192 pages.
Recommended for high school and up.