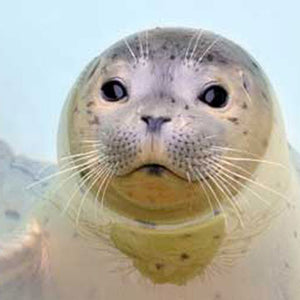 Garnett's Story
Weighing only 17 pounds, Pacific harbor seal Garnett was scooped out of the water by a well-meaning boater. Only days old, the small pup appeared quite healthy and should never have been removed from his natural habitat. Unfortunately, pups like Garnett are frequently picked up by beachgoers who mistake them for orphans.  In reality, their mothers are simply busy foraging for food!
When Garnett arrived at the Center, volunteers began tube-feeding him a special formula to help him grow strong and healthy. As he got stronger, he attended fish school, during which volunteers taught him how to identify, catch and eat live fish--a prerequisite for release back into the wild. After a few months of loving care, Garnett was released at Point Reyes National Seashore.
Adoption Details
When you adopt this past patient, you'll receive a personalized 7in. x 5in. physical adoption certificate with the animal's photo and story on the back. Your symbolic adoption will make a difference in the lives of current and future patients.
Shipping Included!

This is a physical product that will be mailed to you and does not come with a digital certificate. For downloadable Adopt-a-Seal® options, visit our Digital Downloads page!