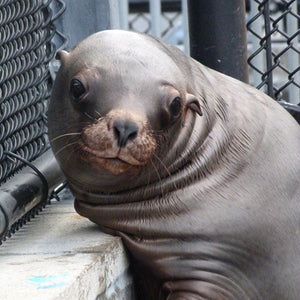 Steller sea lion pup Leo was found stranded without his mother on a beach in Ocean Shores, Washington. The starving four-month-old pup had several wounds and was much too young to care for himself, so he was brought to a local wildlife facility for temporary care. A month later, he was transported to The Marine Mammal Center in a Coast Guard C-130 aircraft.
During Leo's long-term rehabilitation, animal husbandry experts enriched his daily routine by giving him opportunities to catch live fish, play with kelp fronds and solve puzzles like how to reach herring frozen inside of a large block of ice. While at the Center, Leo was also able to socialize with other animals, including northern fur seals and California sea lions of all ages.
After five months of rehabilitation, Leo tripled in size and proved that he was ready to return to the wild. Thanks to the Coast Guard, he made a return flight back to Washington state and was released at La Push, a beach known to be a favorite hangout for Steller sea lions.
Adoption Details
When you adopt this past patient, you'll receive a personalized 7in. x 5in. physical adoption certificate with the animal's photo and story on the back. Your symbolic adoption will make a difference in the lives of current and future patients.
Shipping included!
This is a physical product that will be mailed to you and does not come with a digital certificate. For downloadable Adopt-a-Seal® options, visit our Digital Downloads page!