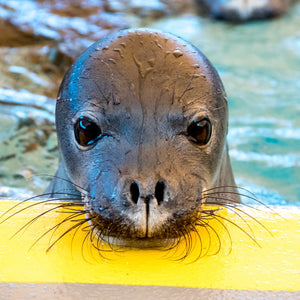 Pearl's Story
Hawaiian monk seal pup Pearl was found underweight and malnourished in the remote Northwestern Hawaiian Islands. One of only approximately 1,300 endangered Hawaiian monk seals alive today, Pearl was too thin and weak to survive on her own.
Pearl was rescued and brought to Ke Kai Ola, The Marine Mammal Center's Hawaiian monk seal hospital on the Big Island of Hawai'i. Once at Ke Kai Ola, Pearl was able to get the nutrition she needed to grow healthy and strong, while our animal care experts taught her how to catch fish on her own, a skill that would help ensure her future survival in the wild.
After about four months of rehabilitation, Pearl was released back to her home in the Northwestern Hawaiian Islands. She was fitted with a satellite tag before her release, allowing researchers to monitor her movements in the wild for several months. This tag provided our scientists with valuable data that will help them better understand how to protect this endangered species in the future.
Adoption Details
When you adopt this past patient, you'll receive a personalized 7in. x 5in. physical adoption certificate with the animal's photo and story on the back. Your symbolic adoption will make a difference in the lives of current and future patients.
Shipping included!
This is a physical product that will be mailed to you and does not come with a digital certificate. For downloadable Adopt-a-Seal® options, visit our Digital Downloads page!