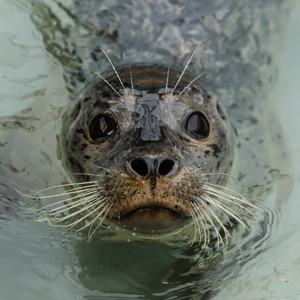 2020 Patient of the Year Nominee
Harbor seal pup Lucinda was found with fishing gear dangling from her tiny body. The most heartbreaking part was that Lucinda's mouth was tugged at each time she moved her front flipper due to the hooks and fishing line that connected them.
Once at our hospital, Lucinda's admit exam revealed that her entanglement was worse than what could be seen at first glance.
Using advanced medical equipment, our veterinarians were able to see inside Lucinda's tiny body, where they discovered a third hook embedded in her stomach that would have to be removed surgically.
Luckily, Lucinda recovered well after her disentanglement surgery. In fact, she started eating the very next day! It wasn't long before Lucinda made a full recovery and was released back to the wild with a second chance at life.
Adoption Details
This is an exclusive digital-only Adopt-a-Seal®. When you adopt this patient, you'll automatically be able to download your adoption certificate, which shares this patient's photo and story.
Download your digital Adopt-a-Seal® today!
Please note that this is a non-customizable, download-only certificate.