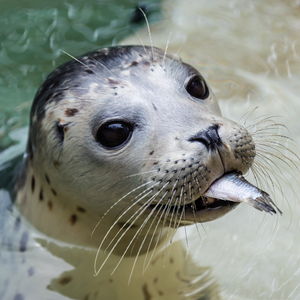 2018 Patient of the Year Nominee
Harbor seal pup Woody was rescued from what would have been a sad fate. She was found motherless and starving—with no way to get the nutrition she needed.
At the Center, she was tube-fed a nutritious formula to help her grow strong and gain a healthy amount of weight.
During "fish school," when harbor seal pups learn life skills, Woody wasn't as interested in the fish as her pen-mates were. As other harbor seal pups learned skills like competing for fish, Woody would watch them or play with the fish.
But once Woody had her "light-bulb moment," she started to eat the fish and not just play with them! Just a few weeks later, Woody was ready for her second chance out in the wild and was released with other young harbor seals.
Adoption Details
This is an exclusive digital-only Adopt-a-Seal®. When you adopt this patient, you'll automatically be able to download your adoption certificate, which shares this patient's photo and story.
Download your digital Adopt-a-Seal® today!
Please note that this is a non-customizable, download-only certificate.