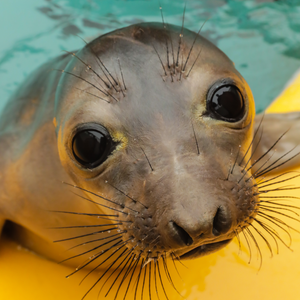 2020 Patient of the Year Nominee
Northern elephant seal pup Zurich was found on a beach looking much too skinny. It was clear she was not getting enough to eat out in the wild and likely faced a sad fate without help.
Luckily, Zurich was rescued and brought to our hospital where she received the medical care she desperately needed.
Animal care experts noted that Zurich was one of the smallest elephant seal pups onsite at the time. But as she began to eat her nutritious fish meals, Zurich slowly put on a healthy amount of weight and regained her strength.
After nearly three months of care, Zurich received a clean bill of health and was released back to her ocean home just steps away from our main hospital.
Adoption Details
This is an exclusive digital-only Adopt-a-Seal®. When you adopt this patient, you'll automatically be able to download your adoption certificate, which shares this patient's photo and story.
Download your digital Adopt-a-Seal® today!
Please note that this is a non-customizable, download-only certificate.